Become a master in three days.
Precision Performance Bundle – two challenging courses at an attractive package price.
With the Precision Performance Bundle you will experience three intensive days on the premises of the Porsche Experience Center Leipzig, full of adrenaline and boundless driving fun. As the name suggests, the one-day Precision training course is followed directly by the two-day Performance training course. In this way, you can seamlessly expand on the basics learned on the first day in the subsequent advanced training and master new motor sport challenges to ultimately achieve the prerequisite for the Master training course. In addition, you save both costs and precious time.
The first day on our circuit is all about vehicle handling and the basics of driving safety. We start with basics such as the seating position, steering and gaze techniques, then get your pulse racing with thrilling evasive manoeuvers. In addition to effective braking, you will also practice drifting over a wet road and learn more about the use of all driving dynamics control systems.
On days two and three, we further refine your skillset and set you driving challenges at a significantly increased level. As your driving speed increases, not only does the difficulty increase, but so does your motor sport fever. Feel the centrifugal force as you lay your sports car into the detailed curve replicas of the world's most famous motor sport racetracks. With every lap, we sensitise your skills, train you to brake with pinpoint accuracy before corners and avoid unnecessary steering movements. Optimised driving through curves is the focus of the second day.
In addition to guided driving, 'free driving' is also on the programme – the opportunity to further refine your knowledge of the entire course and become even more confident. You will be accompanied by a mixture of maximum concentration, palpitations, goosebumps and released endorphins – in short: everything that makes motor sport so fascinating. Your drive will be closely monitored by the instructors of the Porsche Track Experience Leipzig and your learning success will be evaluated afterwards.
After three intensive days, you will have acquired the prerequisites for even more demanding challenges – the Porsche Track Experience Master training courses.
Precision training content
Seat position, steering and gaze technique
Effective braking
Basics of the ideal line
Load change situations
Understeer and oversteer
Efficient use of all driving dynamics control systems
Performance training content
Steering and gaze techniques
Advanced understeer and oversteer
Recognition and implementation of the ideal line
Efficient use of all driving dynamics control systems
Guided driving
Free driving with driving style evaluation
Minimisation of undesired load change reactions
Course duration: three days
Pre-qualification: none
Participation requirements: minimum age 18 years and possession of a valid driving licence
Vehicle: own vehicle or Porsche rental vehicle
Training objective: basic knowledge of driving dynamics and learning the right way to behave in dangerous situations, knowledge of driving dynamics and vehicle control at low and higher speeds
Follow-up courses: Master, Master GT and training specials
Participation fee: €3,200 *
Accompanying person: €450 (Minimum age of 18 years) *
Personal instructor (upon prior request)
* incl. beverages, barbecue on Saturday evening and lunch
718 Cayman GTS: €2,800
718 Cayman GT4: €4,000
718 Cayman GT4 RS: €4,800
911 Carrera: €3,600
911 Turbo: €4,800
911 GT3: €5,350
911 GT3 RS: €6,400
Deductible in case of damage:
911 GT3, 911 GT3 RS: €20,000
Other models: €10,000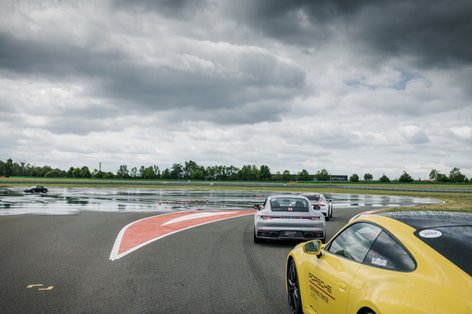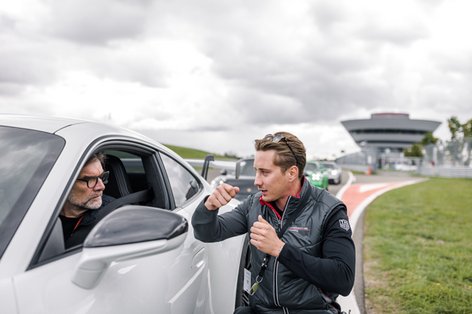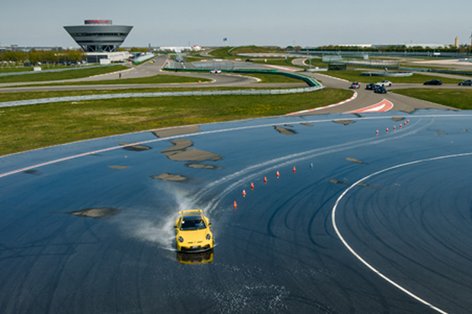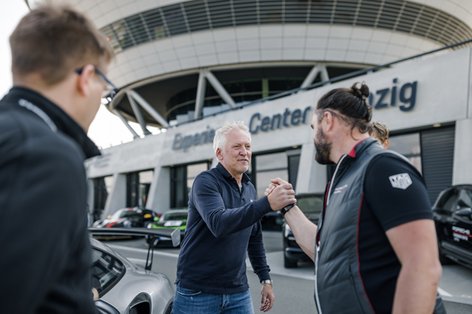 Fuel Consumption and Emissions
911 Carrera (WLTP)*
Fuel consumption/Emissions (WLTP)*
Fuel consumption combined* (model range): 10,8 - 10,3 l/100 km
CO₂ emissions combined* (model range): 245 - 233 g/km
911 GT3 (WLTP)*
Fuel consumption/Emissions (WLTP)*
Fuel consumption combined* (model range): 13,0 - 12,9 l/100 km
CO₂ emissions combined* (model range): 294 - 292 g/km
911 Turbo (WLTP)*
Fuel consumption/Emissions (WLTP)*
Fuel consumption combined* (model range): 12,3 - 12,0 l/100 km
CO₂ emissions combined* (model range): 279 - 271 g/km