The best scenes often take place behind the scenes
Dates for our guided factory tours in German can be found here.
From 23.07.2022 up to and including 14.08.2022, the Porsche Experience Center Leipzig, the Carrera Café and the Porsche Factory Leipzig will be closed for plant holidays. Please understand that we will only be able to register your enquiries and orders during this time and will be able to process them again from 15.08.2022.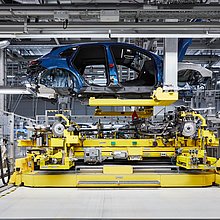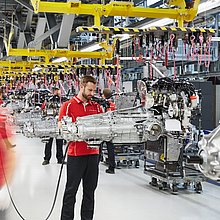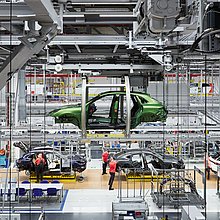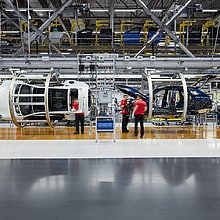 Experience the fascination of a Porsche even before it exists: Take an exclusive look behind the scenes during a factory tour. Accompany the Panamera and Macan on their way through production. From cycle to cycle, a highly demanding interaction between man and machine. The timing must be precise to the second - as it should be for a sports car manufacturer. This also applies to our little sporty helpers: the driverless transport systems. They autonomously transport important subcomponents for production to their destination, accurate to the second. The rule here: always give way. You will also be amazed by our numerous robots, which play a central role, particularly in window bonding. The baptism of fire for every Porsche is a test drive on the company's own circuit. Only then does another Porsche dream become reality.
Would you like to enrich your visit with a driving event? Then we recommend ourPorsche Leipzig Co-Pilot or Porsche Leipzig Pilot programs. If you would like to combine a factory tour with a menu or buffet, select a program from our Porsche Leipzig Gourmet offer. With our experience program Discover Porsche in Leipzig, you can experience a factory tour with an extensive driving program and exclusive catering.
Important notes on our offer:
The Volkswagen Group is looking at the situation in Ukraine with great concern and dismay. We hope for a rapid cessation of hostilities and a return to diplomacy. Effects on production at the Porsche Leipzig Factory cannot be ruled out. Against this background, we cannot currently ensure that the factory tours will take place during ongoing production.
We are pleased to inform you that there are currently no restrictions on visiting the Porsche Experience Center. Please also note our COVID program information.
| | |
| --- | --- |
| Duration | 1.5 hours |
| Language | English |
| Minimum age | 14 years |
| Specific points | Please notice, that factory visits can vary in accordance with production-related factors and may also take place when production is idle. We recommend that you wear sensible shoes for your visit. Due to health and safety standards, people with pacemakers are not allowed in the production areas because of the technical equipment in operation there. This offer is for private individuals only. A maximum of 4 places can be booked on-line. |
| Price | 12,00 € p.P., payable by cash or credit card/EC card on location. Please note that failure to attend the tour appointment or cancellation later than 3 calendar days before the tour, will still be invoiced. |
| Date request | Requests for group guided tours can be made at events@porsche-leipzig.com. Subject to availability, we are happy to provide an individual offer a maximum of 3 months in advance. |