Discovery and amazement at your fingertips: the Porsche experience for the whole family.
There are currently no English dates. Dates for our guided tours in German can be found here.
Porsche Leipzig will be closed from 23rd July 2022 to 12th August 2022 inclusive due to the summer holidays. Please note that we cannot work on enquiries and purchase orders during that period but will process all requests from Monday, 15th August 2022 on. We apologize for any inconvenience this may cause.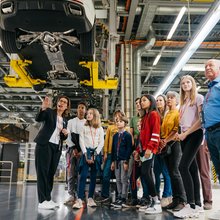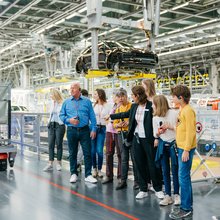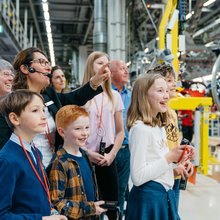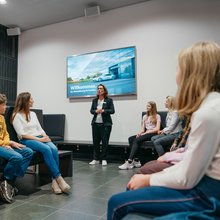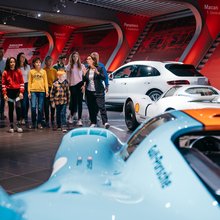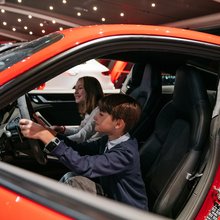 How long does it take to build a car? How do I become a test driver? And why are marriages celebrated at Porsche every day? These questions are particularly exciting for our younger guests. We will answer them all – and show you that sports car production is an experience for the whole family! For visitors of all ages, there is a lot to discover on a tour of our factory – especially for families with children. Take a trip with us through our production facility to experience how the Panamera and Macan are made. Children love it, and it also has plenty for parents, grandparents and other accompanying adults to enjoy.
After that, we will go on a journey through time. In the Porsche Experience Centre, we will explore our exhibition of current and historic vehicles and learn a lot of new things. When was the first Porsche built? How fast is the fastest Porsche? And with which vehicle did Porsche win the most races? A special highlight of our tour: at Porsche, children are also allowed to get behind the wheel! You can take a seat in selected vehicles in our exhibition and, of course, take a souvenir photo to capture the moment.
You can top off your visit with us in our Carrera Café. Here you'll find coffee specialities, soft drinks and regional snacks. Naturally, an impressive view of our Porsche circuit is included – the perfect finish to your family trip to Porsche Leipzig.
Would you like to enhance your visit with a driving event? Then we recommend our programmes Porsche Leipzig Co-Pilot or Porsche Leipzig Pilot. If you would like to combine a factory tour with a fixed-menu meal or buffet, select a programme from our Porsche Leipzig Gourmet offering. With our experience programme Discover Porsche in Leipzig, you can enjoy a factory tour with an extensive driving programme and exclusive catering.
We would be happy to advise you: call us on 0341 999-13588 or send us an email at besucherservice-leipzig@porsche.de. You can reach us Monday to Thursday from 9:00 a.m. to 5:00 p.m. and on Friday from 9:00 a.m. to 4:00 p.m.
Important notes on our offer:
The Volkswagen Group is looking at the situation in Ukraine with great concern and dismay. We hope for a rapid cessation of hostilities and a return to diplomacy. Effects on production at the Porsche Leipzig Factory cannot be ruled out. Against this background, we cannot currently ensure that the factory tours will take place during ongoing production.
Unfortunately, due to current regulations, we cannot offer you all programmes at all times. You can find all available dates in the calendar of events. Please also note our COVID program information.
Duration

2 hours

Language

English

Minimum age

8 years

Specific points

Please notice, that factory visits can vary in accordance with production-related factors and may also take place when production is idle. We recommend that you wear sensible shoes for your visit. Due to health and safety standards, people with pacemakers are not allowed in the production areas because of the technical equipment in operation there. This offer is exclusively for children and accompanying adults (min. 1 adult + max. 3 children). A maximum of 5 places can be booked online.

Price

Adult: 12,00 € p.P.
Child (8-12 years): 6,00 € p.P.