Driving intensive.
Precision intensive – a two-day course for first-time participants.
In this two-day intensive course, we show you how to get more out of your sports car through precision and technique in all areas. On the circuit, you will approach the ideal line step-by-step and learn how to master dangerous situations at higher speeds.
In addition to the basics such as seat position, steering and gaze technique, we will train you in optimal braking behaviour, teach you confident evasive manoeuvers and show you the effects that even small differences in speed can have on load changes. In the process, you will gradually approach driving conditions in which the vehicle threatens to break free. Goosebumps are guaranteed here.
You'll also learn everything you need to know about using your sports car driving dynamics control systems and receive a driving style assessment during a guided drive with our instructors, as well as pure adrenaline. After two days of intensive training, you will leave the Porsche Experience Center Leipzig well equipped for all challenges, including those you set for yourself – such as our demanding performance training.
Seat position, steering and gaze techniques
Effective braking
Basics of the ideal line
Load change situations
Under- and oversteer
Efficient use of all driving dynamics control systems
Guided driving with driving style evaluation
Course duration: two days
Pre-qualification: none
Participation requirements: minimum age 18 years and possession of a valid driving licence
Vehicle: own vehicle or Porsche rental vehicle
Training objectives: basic knowledge of driving dynamics and learning the right way to behave in dangerous situations
Follow-up courses: Performance and training specials
Please also note our COVID programme notes.
Participation fee: €1,950 *
Accompanying person: €300 (Minimum age of 14 years) *
Personal instructor: €4,500
* incl. beverages, barbecue and lunch
718 Cayman GTS: €1,400
718 Cayman GT4: €2,000
718 Cayman GT4 RS: €2,400
Panamera, Cayenne, Taycan: €1,600
911 Carrera: €1,800
911 Turbo: €2,400
911 GT3: €2,500
911 GT3 RS: €3,200
Deductible in case of damage:
911 GT3, 911 GT3 RS: €20,000
Other models: €10,000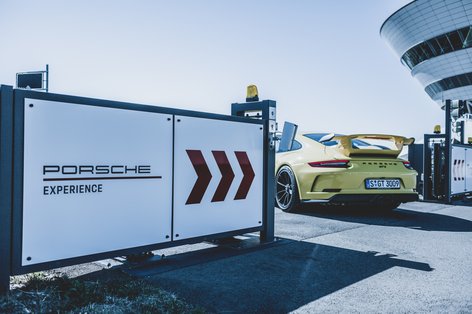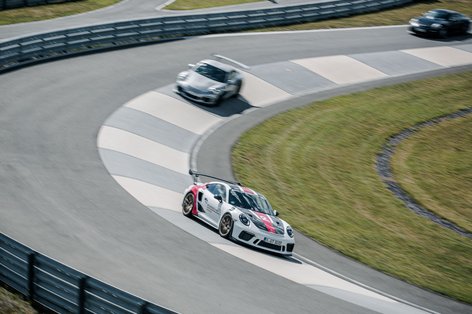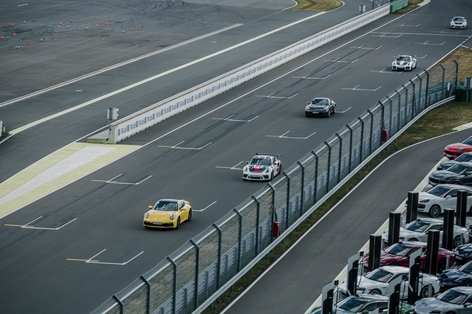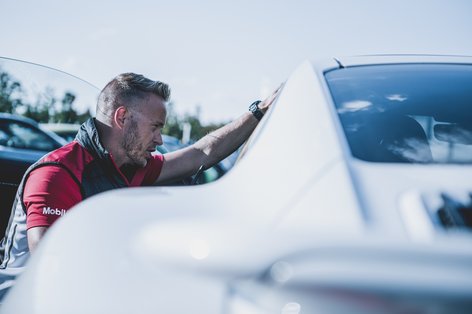 Fuel Consumption and Emissions
718 Cayman GTS 4.0 (NEFZ)*
718 Cayman GTS 4.0 (WLTP)*
911 GT3 (NEFZ)*
Fuel consumption/Emissions (NEFZ)*
Fuel consumption combined: 13,3 - 12,4 l/100 km
CO₂ emissions combined: 304 - 283 g/km
911 GT3 (WLTP)*
Fuel consumption/Emissions (WLTP)*
Fuel consumption combined* (model range): 13,0 - 12,9 l/100 km
CO₂ emissions combined* (model range): 294 - 292 g/km
718 Cayman GTS 4.0 (NEFZ)*
Fuel consumption/Emissions (NEFZ)*
Fuel consumption combined: 10,8 - 9,6 l/100 km
CO₂ emissions combined: 246 - 219 g/km
718 Cayman GTS 4.0 (WLTP)*
Fuel consumption/Emissions (WLTP)*
Fuel consumption combined* (model range): 10,9 - 10,1 l/100 km
CO₂ emissions combined* (model range): 247 - 230 g/km
718 Cayman GT4 (NEFZ)*
Fuel consumption/Emissions (NEFZ)*
Fuel consumption combined: 10,9 - 10,2 l/100 km
CO₂ emissions combined: 249 - 232 g/km
718 Cayman GT4 (WLTP)*
Fuel consumption/Emissions (WLTP)*
Fuel consumption combined* (model range): 11,1 - 10,7 l/100 km
CO₂ emissions combined* (model range): 251 - 242 g/km
911 Turbo (NEFZ)*
Fuel consumption/Emissions (NEFZ)*
Fuel consumption combined: 11,1 l/100 km
CO₂ emissions combined: 254 g/km
911 Turbo (WLTP)*
Fuel consumption/Emissions (WLTP)*
Fuel consumption combined* (model range): 12,3 - 12,0 l/100 km
CO₂ emissions combined* (model range): 279 - 271 g/km