Driving fun: optimised.
Precision - a one-day course for first-time participants.
Anyone can drive a sports car. All that divides a good and an average driver is precision and technique. Only through precision can you steadily approach the ideal line, make up seconds on the racetrack and master everyday dangerous situations with confidence. And after just a few kilometres on the track, you'll realise that, in addition to control, precision means one thing above all else – pure driving pleasure.
Your Precision training on our circuit is all about vehicle handling and the basics of driving safety. We start with basics such as seat position, steering and gaze technique, and then move on to the first driving challenges. You'll practice evasive manoeuvers and effective braking, drifting over a wet road surface, and learn more about using all the vehicle dynamics control systems. And while you're in control of your sports car, you can let your emotions run wild.
At the end of the course, you'll leave the Porsche Experience Center Leipzig with a new skillset that you can thank for more driving pleasure in everyday life and more safety in dangerous situations. Precision training is good preparation for Performance training and other training specials.
Seat position, steering and gaze technique
Effective braking
Basics of the ideal line
Load change situations
Under- and oversteer
Efficient use of all driving dynamics control systems
Course duration: one day
Pre-qualification: none
Participation requirements: minimum age 18 years and possession of a valid driving licence
Vehicle: own vehicle or Porsche rental vehicle
Training objectives: basic knowledge of driving dynamics and learning the right way to behave in dangerous situations
Follow-up courses: performance and training specials
Participation fee: €1,250 *
Accompanying person: €150 (Minimum age of 14 years) *
* incl. beverages and lunch
718 Cayman GTS: €700
718 Cayman GT4: €1,000
718 Cayman GT4 RS: €1,200
Panamera, Cayenne, Taycan: €800
911 Carrera: €900
911 Turbo: €1,200
911 GT3: €1,250
911 GT3 RS: €1,600
Deductible in case of damage:
911 GT3, 911 GT3 RS: €20,000
Other models: €10,000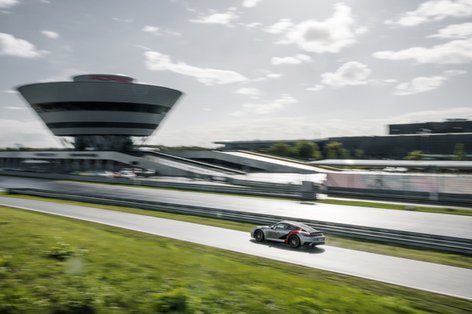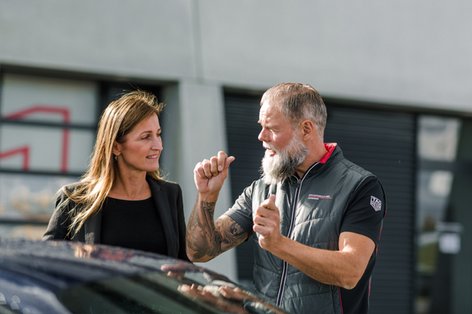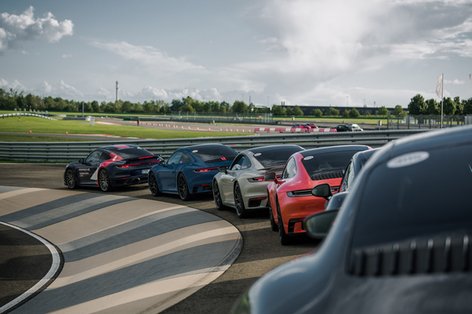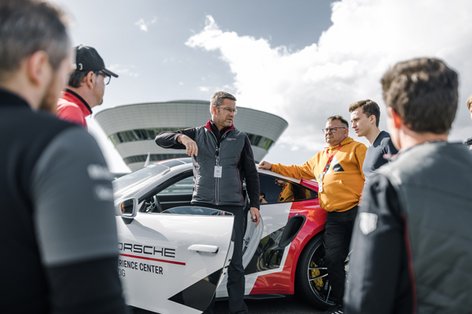 Fuel Consumption and Emissions
911 Carrera (WLTP)*
Fuel consumption/Emissions (WLTP)*
Fuel consumption combined* (model range): 10,8 - 10,3 l/100 km
CO₂ emissions combined* (model range): 245 - 233 g/km
911 GT3 (WLTP)*
Fuel consumption/Emissions (WLTP)*
Fuel consumption combined* (model range): 13,0 - 12,9 l/100 km
CO₂ emissions combined* (model range): 294 - 292 g/km