The Cup Experience
A special experience
Porsche Leipzig will be closed from 23rd July 2022 to 12th August 2022 inclusive due to the summer holidays. Please note that we cannot work on enquiries and purchase orders during that period but will process all requests from Monday, 15th August 2022 on. We apologize for any inconvenience this may cause.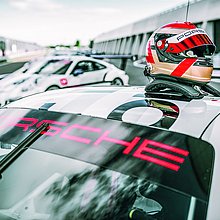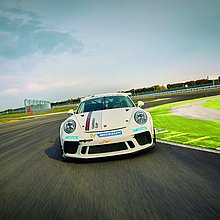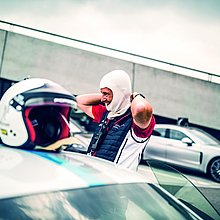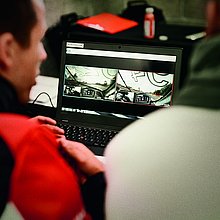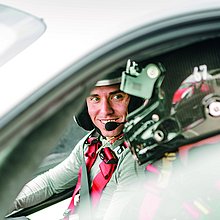 Pure motorsport awaits you on our Cup Experience. Whether with the 911 GT3 Cup, representing the fastest One-Make-Series in the world, or the Cayman GT4 Clubsport, which provides the perfect introduction to the fascinating world of motorsport. The choice is yours. We promise that true racing feeling on the FIA-certified Porsche Circuit in Leipzig.
Your experienced racing instructor will prepare you step by step for the challenges ahead. The briefing is initially held in the road-approved version – the 911 GT3 or the Cayman. During your first laps, you will learn the basics that you can apply when you drive the thoroughbred race car later. For example, tips on efficient braking, accelerating and a highly accurate recognition and implementation of the racing line.
Once well prepared, you will then switch to the race car. Your instructor will give you a detailed briefing so as to familiarise you with the individual controls. Such as the six-point seat belt system or the perfect seat position. Your pro will also demonstrate how to use the sequential six-speed manual transmission and the internally vented racing brake system (steel).
Your heart rate will sour as you experience four unforgettable 15-minute stints. But don't worry: at your side throughout and linked via intercom, your instructor is there to support and guide you with precision to your goal – your own personal limit. After each stint, your laps can be assessed using data and video analysis. To help you shave off those crucial tenths of a second. And for even more driving pleasure on the race track. Of course, we will record this extraordinary day for you. As a reminder, you will receive all video recordings of your laps in digital form.
And because every racing driver also needs a pit stop, we invite you to a three-course meal in the Customer Centre restaurant and show you the Porsche production processon a factory tour.
Important notes on our offer:
The Volkswagen Group is looking at the situation in Ukraine with great concern and dismay. We hope for a rapid cessation of hostilities and a return to diplomacy. Effects on production at the Porsche Leipzig Factory cannot be ruled out. Against this background, we cannot currently ensure that the factory tours will take place during ongoing production.
Unfortunately, due to current regulations, we cannot offer you all programmes at all times. You can find all available dates in the calendar of events. Please also note our COVID program information.
Contents
Total duration approx. 7 hours
Individual driving induction
45 minutes on-road in road-approved version (Cayman or 911 GT3)
Four 15-minute stints in the selected race car
Assessment of data and video analysis
Factory tour
Three-course meal, including drinks
Premium, personalised gift

Participants per vehicle

1 participant
Companion on request
Conditions of participation
The driver must be at least 21 years old and have been in possession of a valid driving licence for three years.

To ensure maximum driving performance, the 911 GT3 Cup and the Cayman GT4 Clubsport are fitted with a new set of Michelin slick tyres (rain tyres if required) before each Cup Experience. Both cars are provided with fully comprehensive insurance. There is an excess of €20,000.

Racing suit, gloves and helmet are all available to hire on the training day.
Consultation and appointment

Mrs. Dajana Menz and Mrs. Susann Altinok will be happy to answer any further questions and make an appointment with you personally at any time:
Tel.: +49 341 999-13621
E-mail: individual@porsche-leipzig.com

Price

€3,100 Cayman GT4 Clubsport Experience
€5,800 911 GT3 Cup Experience