Exclusive three-course lunch (incl. non-alcoholic drinks)
Porsche Leipzig will be closed from 18th July 2020 to 12th August 2020 inclusive due to the summer holidays and building works. During this time it is not possible for guests to visit our facilities. Please note that there will be no events on offer during this period. We apologise for any inconvenience this may cause.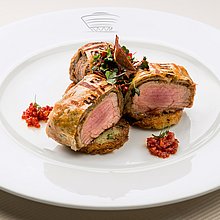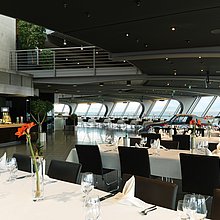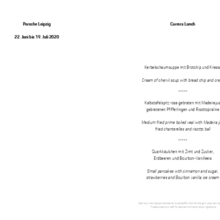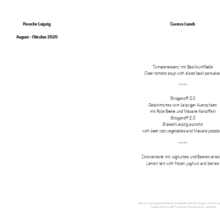 Enjoy a factory tour that will take you along the production line of the Panamera and the Macan, experience the impressive Customer Centre of Porsche Leipzig and endulge in an exclusive three-course lunch. Enjoy the fascinating 360° view of our premises as you indulge in cuisine à la Porsche in our restaurant.
Soft drinks are included in this offer.
Please send us an enquiry to find out whether your preferred date is available.
You can also call from Monday to Thursday between 8.00 am and 5.00 pm or Friday between 8.00 am and 4.00 pm local time: +49 341 999 - 13588 or fax us: +49 341 999 - 13923.
However, you can contact us at any time by sending an email to visitor@porsche-leipzig.com and we will deal with the matter as quickly as possible.
Impact of Covid-19 on the experience programs at Porsche Leipzig
Updated status: 22.05.2020
Dear Porsche fans,
we are pleased to inform you that starting on the 25.05.2020 our Customer Centre at Porsche Leipzig will be able to offer a more extensive range of services and will continue to operate in compliance with the necessary hygiene measures.
Our shop is currently open for visitors from Monday to Friday from 11.00 am - 3.00 pm.
The experience and individual offers are now available and can be booked as well. Due to the limited access to the factory, we are unfortunately not yet able to offer guided tours (without any additional program features). We will keep you informed if any changes occur. The Pole Position Brunch will also be slightly modified (details can be found on the program page). For the Co-Pilot programs, face masks and gloves are mandatory. For the Pilot program only gloves are mandatory. Both will be available for you free of charge.
We will continue to actively and responsibly monitor developments and inform you as soon as any changes occur.
Your Porsche Leipzig Team
| | |
| --- | --- |
| Duration | approx. 3,5 hours (incl. factory tour) |
| Minimum age | There is no minimum age to participate in the lunch offer. For the factory tour a minimum age of 14 applies. |
| Additional information | We recommend that you wear sensible shoes for your visit. Due to health and safety standards, people with pacemakers are not allowed in the production areas because of the technical equipment in operation there. |
| Date request | Please note, that the experience is not available for only one participant. When enquiring for groups of 20 or more participants, please use the 'Date Request' button and we will check availability on your preferred date. |
| Price per adult | 58,00 € p.P. |
| Price per child (7 to 12 years) | 29,00 € p.P. |