Some of the best moments happen backstage.
Dates for our guided factory tours in German can be found here.
Porsche Leipzig will be closed from 18th July 2020 to 12th August 2020 inclusive due to the summer holidays and building works. During this time it is not possible for guests to visit our facilities. Please note that there will be no events on offer during this period. We apologise for any inconvenience this may cause.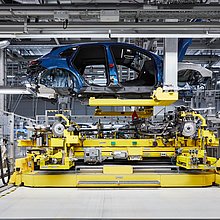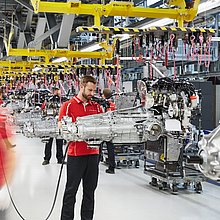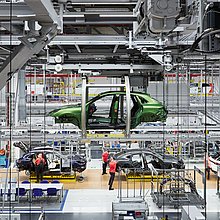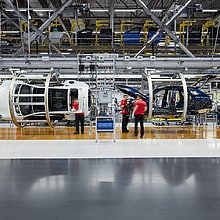 Experience the fascination of a Porsche, before it even exists: take an exclusive look behind the scenes with a guided factory tour. Accompany the Panamera and Macan on their way through the manufacturing process. From cycle to cycle, a highly-demanding interplay between man and machine. Timing must be exact to the second – as you would expect from a sports car manufacturer. Then, the decisive moment: the wedding; the joining of the body to the drivetrain and chassis. The baptism of fire for every Porsche is a test drive around the factory on-road circuit. Only then does another Porsche dream come true.
If you want to combine your factory tour with an exclusive menu or buffet, you can pick one of our Porsche Leipzig Gourmet offers. And if you want to enrich your visit with a driving event, we recommend the Porsche Leipzig Co-Pilot or Porsche Leipzig Pilot offers. Or you can pick one of our Discover Porsche in Leipzig offers, where you can round off the factory tour with an exciting driving event and exclusive catering.
You can also call from Monday to Thursday between 8.00 am and 5.00 pm or Friday between 8.00 am and 4.00 pm local time: +49 341 999 - 13588 or fax us: +49 341 999 - 13923.
However, you can contact us at any time by sending an email to visitor@porsche-leipzig.com and we will deal with the matter as quickly as possible.
Impact of Covid-19 on the experience programs at Porsche Leipzig
Updated status: 22.05.2020
Dear Porsche fans,
we are pleased to inform you that starting on the 25.05.2020 our Customer Centre at Porsche Leipzig will be able to offer a more extensive range of services and will continue to operate in compliance with the necessary hygiene measures.
Our shop is currently open for visitors from Monday to Friday from 11.00 am - 3.00 pm.
The experience and individual offers are now available and can be booked as well. Due to the limited access to the factory, we are unfortunately not yet able to offer guided tours (without any additional program features). We will keep you informed if any changes occur. The Pole Position Brunch will also be slightly modified (details can be found on the program page). For the Co-Pilot programs, face masks and gloves are mandatory. For the Pilot program only gloves are mandatory. Both will be available for you free of charge.
We will continue to actively and responsibly monitor developments and inform you as soon as any changes occur.
Your Porsche Leipzig Team
| | |
| --- | --- |
| Duration | 1.5 hours |
| Language | English |
| Minimum age | 14 years |
| Specific points | Please notice, that factory visits can vary in accordance with production-related factors and may also take place when production is idle. We recommend that you wear sensible shoes for your visit. Due to health and safety standards, people with pacemakers are not allowed in the production areas because of the technical equipment in operation there. This offer is for private individuals only. A maximum of 4 places can be booked on-line. |
| Price | 10,00 € p.P., payable by cash or credit card/EC card on location. Please note that failure to attend the tour appointment or cancellation later than 3 calendar days before the tour, will still be invoiced. |
| Date request | Requests for group guided tours can be made at events@porsche-leipzig.com. Subject to availability, we are happy to provide an individual offer a maximum of 3 months in advance. |
Here at Porsche Leipzig, we are looking for a creative approach to the temporary reduction in the value added tax. To avoid the bureaucratic effort involved in changing the systems, we have decided to keep our prices as they are. Instead, we are donating the additional revenue entirely to the Ferry Porsche Foundation for a good cause. We greatly appreciate all your support.